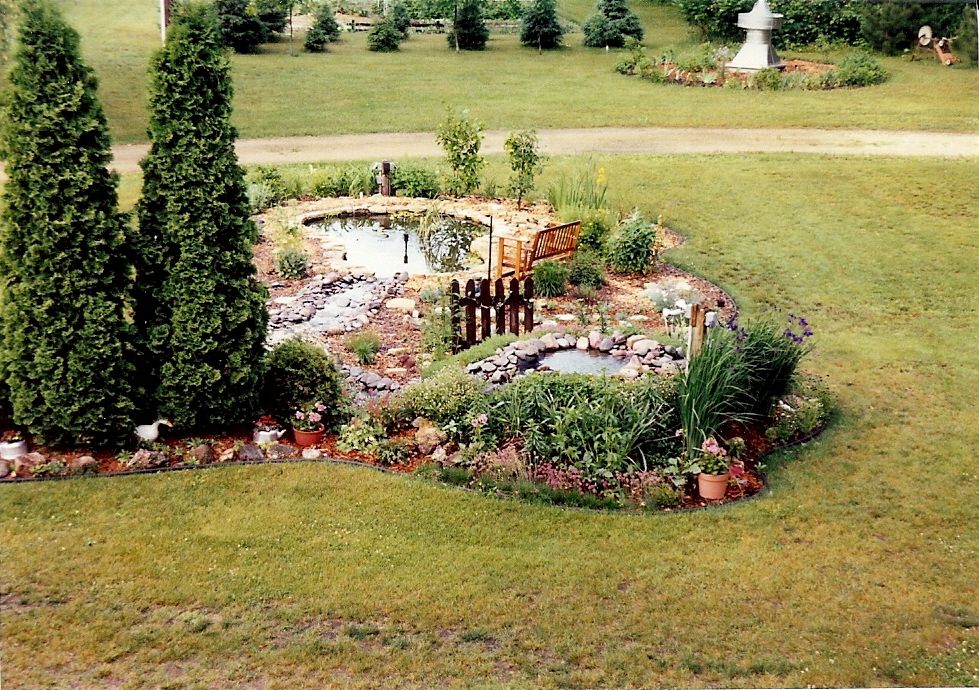 Earlier this year, in Spring,  a friend offered me a small arborvitae tree that seemed to be in the way when the snow plow guys came in to push the snow out of her parking lot onto the lawn.  It was a pretty tree. I loved it immediately.  I'm sure I have a place for it, I thought.   So I told her I was interested.
As I looked around my yard and gardens I could only find one perfect spot for it.   But the spot I thought would work needed to be rebuilt!  It had been lovely when it was first built about 14 years ago.  (picture on top left)
I remember our grandson was visiting from Montana.  He enjoyed riding the tractor with my husband as he set the copula in the middle of the new round garden. (top right in the picture).
The copula was from his Dad's barn and he designed a horse out of sheet metal to place on the weather vane.    We had an old cream separator that was reminiscent of our folks' farming days.  That went in the garden too.  We planted bush roses, Iris, Siberian Iris and other plants that would be ok in poor soil and with little water.   Other perennials were added during the years like Lilies, and Cone Flower.
Now this round garden had grown into a very weedy mess.   It would take a long time to get it ready.   It was a project that you work on when you have time, after the garden is planted, after the perennials are divided, and after other important things are done.   It was a very hot and dry summer in Wisconsin so the project moved along slowly.
During the summer, I'd visit my friend who lived in another city and the tree was still there waiting for me.  I told her I was still interested, but I didn't have a place for it yet.  As summer turned into September, I was getting serious about working on my project.  I called a neighbor who delivered a small load of black dirt.   I drew a sketch of what the garden would look like as you drive into the yard.
I decided to start on one half of it.  I hoed and weeded, prepared it with several layers of newspaper, a new layer of dirt, compost and more dirt.  I built up part of it so it would have two levels of flowers.  By this time I knew I was not planting any new plants this year.  Spring would be soon enough.
Meanwhile I decided to do an experiment with the other half of the garden.  I laid down cardboard over the grass, covered it with sandy dirt, compost from my compost pile, and some black dirt from my neighbor.  That took a few more days than I expected.  Of course I work at this project when I have time.
I'm excited with this experiment to see if it really works to lay there all winter and maybe next year without doing anything to it. It is supposed to get rid of all the weeds and grass underneath and be ready to plant a garden the following year.
It is getting cold and the second weekend in November and I travel to my friend's Café in the other city.  The tree is gone!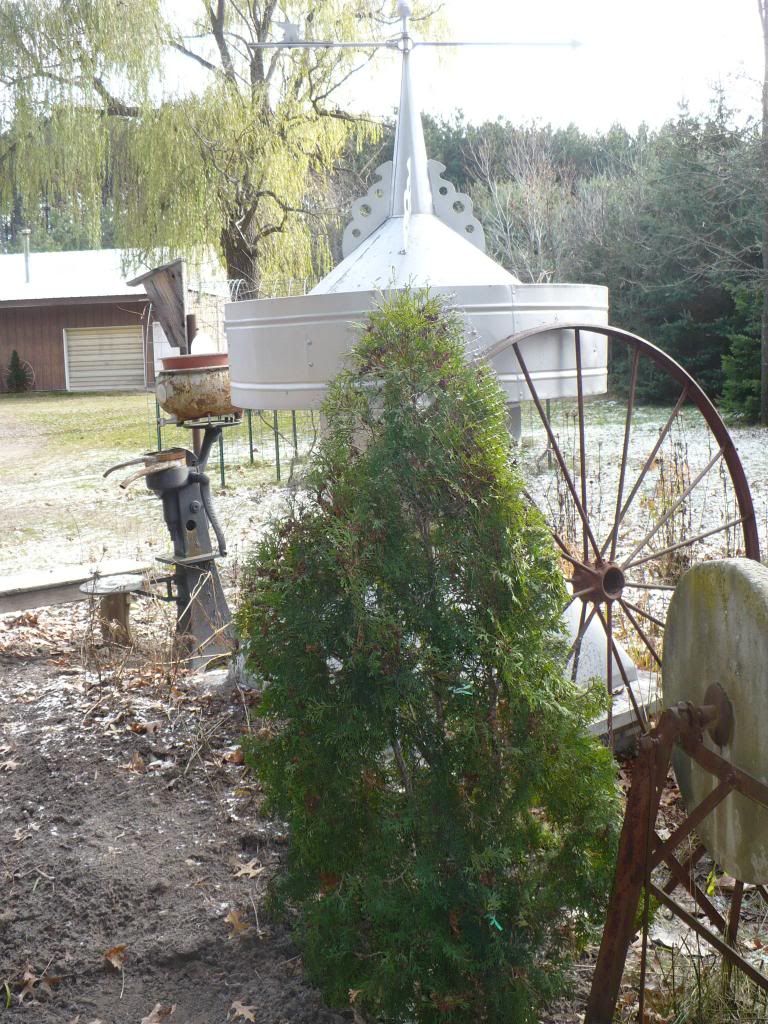 I ask her about it and another friend had dug it out waiting for someone to take it.  I drive over to her house and there it is, lying waiting for me.  I take it carefully and fit it in my hatchback Kia.  It fits perfectly.  It is very cold and windy that day… one more day to wait.  I think to myself " How can it get any better than this?"
The next day is warm and sunny, a perfect day for planting my pretty tree.  I dig the hole large and deep, pour in a pail of water and let the roots soak up the water before I continue.   As I push dirt into the hole, I raise the tree to be at the same level as it was in the previous location.
I am thrilled at how beautiful it is and how perfect everything turned out.
I know the fairies had a lot to do with getting that tree to me in a safe and timely fashion.  I just imagine them all excited as they celebrate my little arborvitae tree next to the large copula, in my new little garden.
Happy Winter.